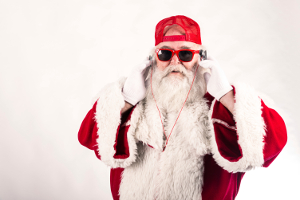 FOR IMMEDIATE RELEASE
2014-12-26
North Pole – Santa Clause, Inc. (SANTA) announced today that it will be choosing 60East Technologies' AMPS product as their strategic messaging platform.
SANTA expects the demands on delivery to continue to increase at record rates given the improvements in the economy and world population increases. With the increase in demand, having a best-of-breed messaging with a SQL database and analytics platform is critical – AMPS combines all of these into a single cohesive product.
SANTA deployed AMPS version 4.0 Beta to implement their new Real-time Naughty List in early 2014. With the Real-time Naughty List, SANTA was able to deliver gifts to more than 526 million children in less than 6 hours – a 4x reduction over 2013.
SANTA CIO Mortimer J. Elf says, "Using AMPS, we launched our Real-time Naughty List, which allowed us to get a real-time view of inventory needs up to the actual delivery. We were running AMPS within a Virtual Machine on a laptop in the sleigh, getting hourly updates for each of the 526 million children – that's about 150K updates per second. That capacity allows us to accurately deliver to children everywhere. Before deploying AMPS, we'd have difficulties tracking who was naughty or nice within the last month of delivery – and sleepovers and family visits made tracking kids impossible. We had no Wrong-Chimney events this year, whereas these events accounted for 3% of all deliveries in 2013. The NORAD tracker couldn't keep up."
A spokesperson for 60East Technologies said, "We're happy to have had the opportunity to partner with SANTA in the building of their Real-time Naughty List. The feature set and capacity found in AMPS uniquely suits it to the world's most demanding applications."
SANTA Founder, Head Logistics Officer and CEO Kris Kringle summed up his satisfaction with the project and AMPS overall. "Ho, ho, ho".
About 60East Technologies Inc.
60East Technologies was founded in 2010 by a world-class tandem of system programming experts with a proven track record of delivering systems to the most demanding customers. The team's experience and expertise building high performance systems over the past twenty years, has led to the development of a technology, AMPS, that will revolutionize how real-time messaging is used to build modern applications that scale into the future. 60East Technologies is committed to building the fastest real-time streaming database software and helping application developers deliver solutions that outperform their peers.
About Santa Clause, Inc.
Santa Clause, Inc. (SANTA) is recognized worldwide as one of the industry leaders in holiday-focused parcel distribution. Founded at some point in the distant mythic past, SANTA is best known for delivering packages for upwards of 526 million customers in a single 31-hour period each and every year. We are experts in both conventional and modern logistics, and our operation combines cutting-edge technology with tradition. We pride ourselves on providing an unparalleled parcel delivery experience and groundbreaking customer satisfaction for the price of a glass of milk, a plate of cookies, and a few carrots for the reindeer. Maybe some hot chocolate, too.